WE KEEP IT HOW NATURE INTENDED IT
100% REAL FOOD products made with care and clean ingredients.
MERRY CHRISTMAS from US to YOU
MERRY CHRISTMAS 10% OFF STOREWIDE
SAVE 10% OFF PALEO HERO STOREWIDE* when you spend $50 or more. Paleo Hero & Function Well Foods branded products Only - Excludes Non Branded Paleo Hero or Function Well Foods Items.
ORDER HERE!!
MARKET PLACE - NOW OPEN
INTRODUCING the Function Well Foods Market Place. Stock up your pantry with all your healthfood staples at affordable prices
Compare our prices & place your order NOW!!
SHOP HERE!!
CHRISTMAS IS COMING!!
Looking for great gift ideas? Why not give the Gift of Health with our Silling Season Selection Box. Order for a friend and we will ship it off for you for FREE!!
FREE Xmas Recipe eBook with every Selection Box ordered
SHOP NOW
WHAT OUR CUSTOMERS SAY
AMAZING quality, freshness and consistency!! Unlike many other products with lots of nuts & seeds where you often get ones that are half-rotten/decayed, this muesli NEVER fails to deliver in quality and taste... I've been ordering it for 12+ months. I get equally as excited for my morning coffee as I do for my bowl of this... Best muesli on the market!

Paul
Extremely satisfied with ordering online. I usually purchase in-store at my local health food store, but due to the risks of COVID-19 opted to order directly from the website. I received my order in 2 days!! I also tried the paleo bread mix for the first time and I have to say I'm super impressed! Really easy to put together and it tastes delicious (super filling as well)! Would 100% order online again! Please keep up the good work!
I had this muesli this morning for breakfast, it's the best muesli I have ever tried. It is better than restaurant quality. LOVE.

Marion
I have been making my own paleo (grain free, gluten free) bread for a while now. Have tried lots of recipes, some not so tasty. I love the convenience of Paleo Hero bread mix. It means I don't have to go out and source all of the ingredients myself. Convenient and the bread tastes YUM! Husband (eats what he likes - loves a nice sourdough) has come around commenting on how good the bread smells when I am toasting some.
The breasd mix is awesome, as I don't have to source all the ingredients for myself, its super convenient! I also like to change things up once in a while by adding sultanas to the mix.. makes a great version of raisin toast

Jessica
GET COOKING WITH OUR CLEAN HEALTHY RECIPES
---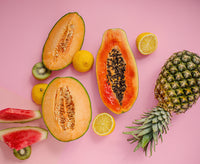 HEALTH & WELLNESS BLOG
Easy reads on all things to help you achieve your health and wellness goals.
BROWSE BLOG
FOLLOW OUR SOCIALS @PALEOHERO